DREAM IN PEACE
written by White Ibiza      photos by

Conrad White      

 styling by

Loli-San
AN ELEGANT AND EMINENTLY LIVEABLE FAMILY HOME THAT RADIATES WITH THE
TRADITIONS OF IBIZA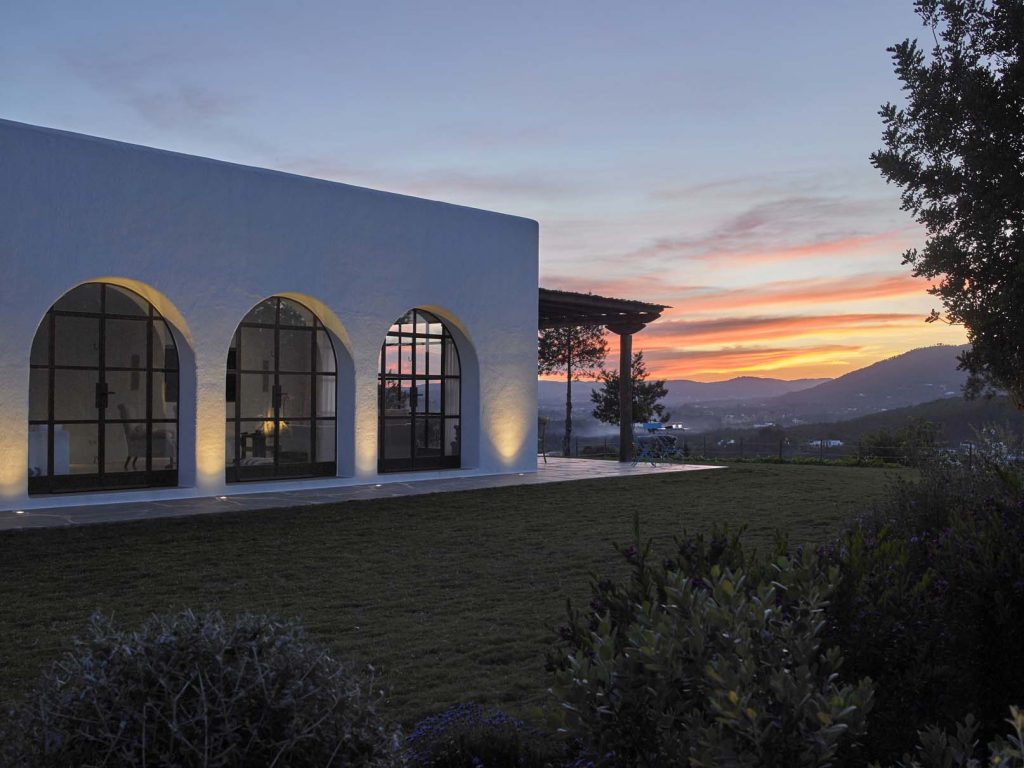 It was quite the journey for Ingo Vollkammer, Claudia Simon and their three children when they decided to relocate to Ibiza in 2013. After many years of living in Los Angeles, the lmmaker and interior designer decided to move back to Europe; rst to Switzerland where their California outlook bristled against the restraint of the culture. With fond memories of childhood holidays spent in Ibiza, Ingo thought Spain would be a better match for their relaxed lifestyle. Claudia came rst on a scouting trip, knowing nothing of the island, and in a matter of days called Ingo to tell him to pack the bags, she had found home. After searching the island top to bottom they fell in love with an old nca in need of a lot of love and attention.
"At rst we were just looking to create a liveable space – it was a small project," says Ingo of the Can Pep dén Pere, the property development that introduced him to future business partner Rolf Blakstad. "As we got to know Rolf and connected with him it turned into something much bigger, but much more creative." It was almost two years before the family were able to move in but the wait was de nitely worth it. "Rolf's architectural style is so easy to live in – it's simple but beautiful and stylish," adds Claudia. "We wanted that combination of an old nca and a Blakstad home."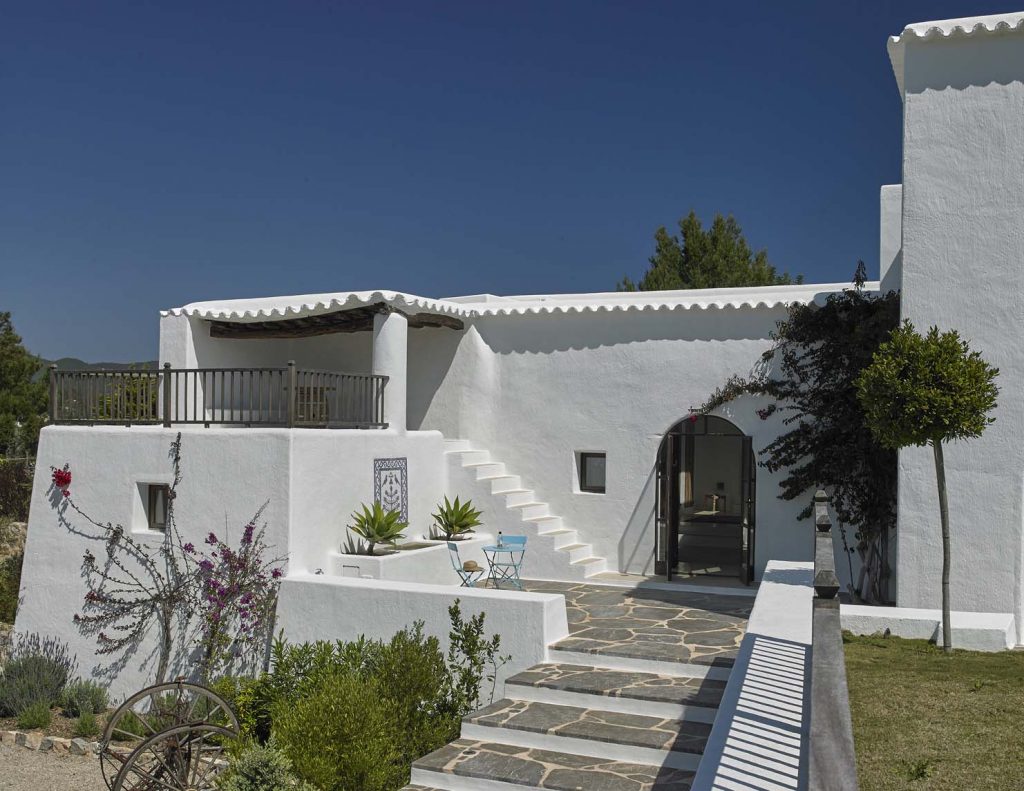 Blakstad's history on the island is well known. e architectural rm was establish nigh on 60 years ago by his father Rolph Blakstad, who became an important gure in the architectural world, creating the very rst in-depth studies of traditional Ibicenco architecture and design. A Blakstad property holds a certain cache, known for quality, a subtle aesthetic and an authentic connection to the traditions of the island – all traits that tted perfectly into Ingo and Claudia's philosophy.
Can Pep dén Pere features all the elements expected of a reformed Ibicenco nca and yet there is something altogether unique in its execution. It soon became apparent that all the charm of the nca would be lost if they didn't keep the original entrance, façade and porch, which date back to the 1600s. From the front one sees beautifully textured white washed walls, dry stone walls and wonderfully weathered stone paving where centuries of country life has been played out. Inside was a typical space designed to keep the sun out with tiny windows, little light and no access to the outdoors other then the front door.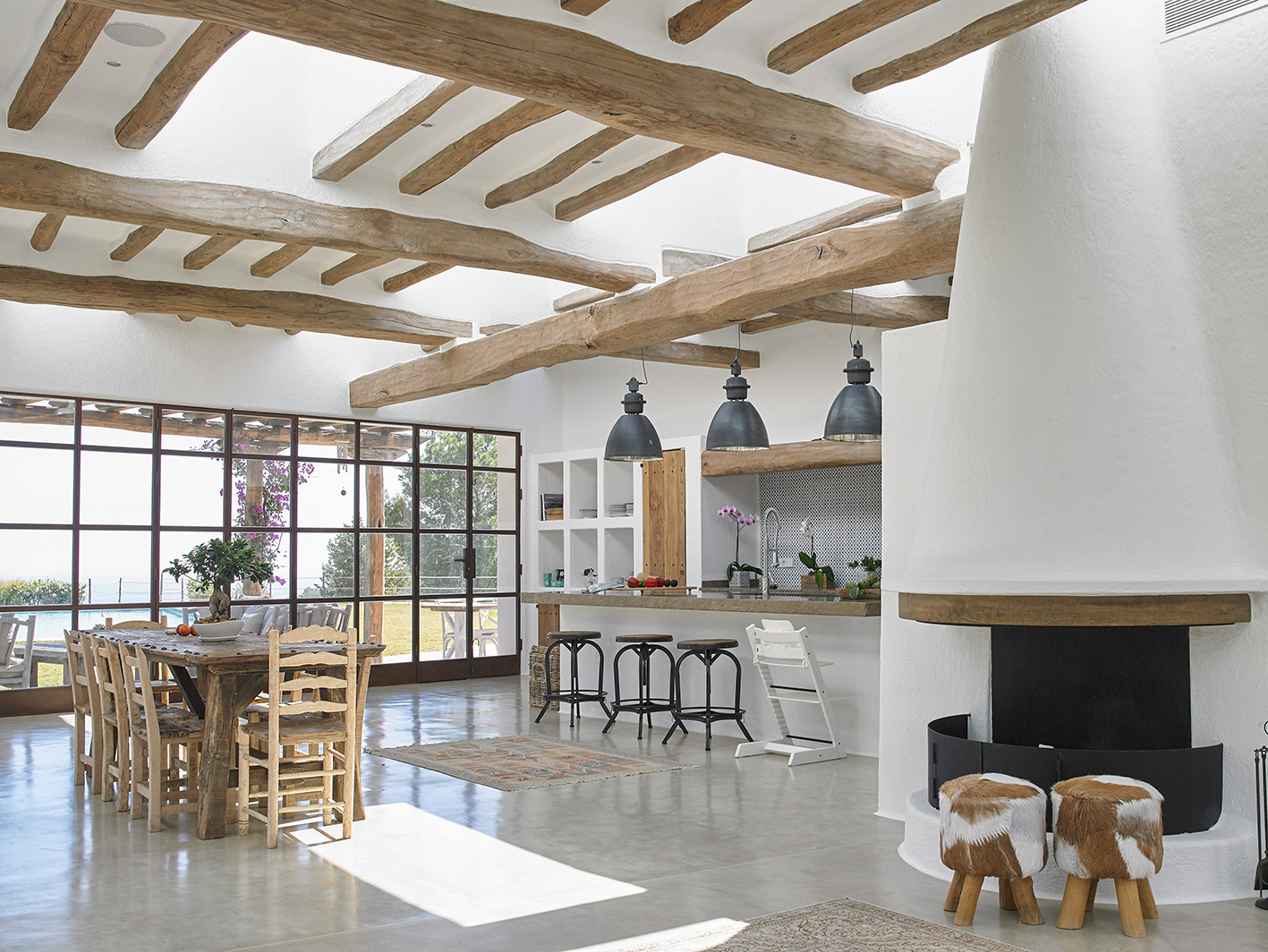 A set of six arched windows next to the old fruit drying porch were built some time in the 1970s. e arched motif has been repeated in the newly designed section of the house, its curved shape enhanced by French style steel framed glass doors that create a gorgeous geometrical setting for the lawn while ooding the interior with light. Here are the main living quarters, with high wood beamed ceilings, skylights and an e ortless ow between spaces. At either end of this annex is a covered porch, one looking out over the landscape and the other over the pool and gardens.
Perhaps the phrase rustic minimalism could best describe the interior design, although the term minimalist often invokes a metallic coldness and Can Pep dén Pere is far from cold. ere's a clarity in the spaces and choice of furnishings that allow for the imprint of the people who live here, and those that came before them, to infuse the house. A slightly monastic ambience induces a clearheaded calm, as if spending time here could actually solve all the world's problems, or at least your own.
"We wanted to maintain an authenticity and the traditions the Ibicencos lived with. We were very much inspired by that," says Claudia, who did a road trip around Valencia picking up the antiques and various pieces that now furnish the home. e project inspired her latest business venture, Cloudhaus, an interiors company that sources old wood around the island and repurposes it into traditional furniture.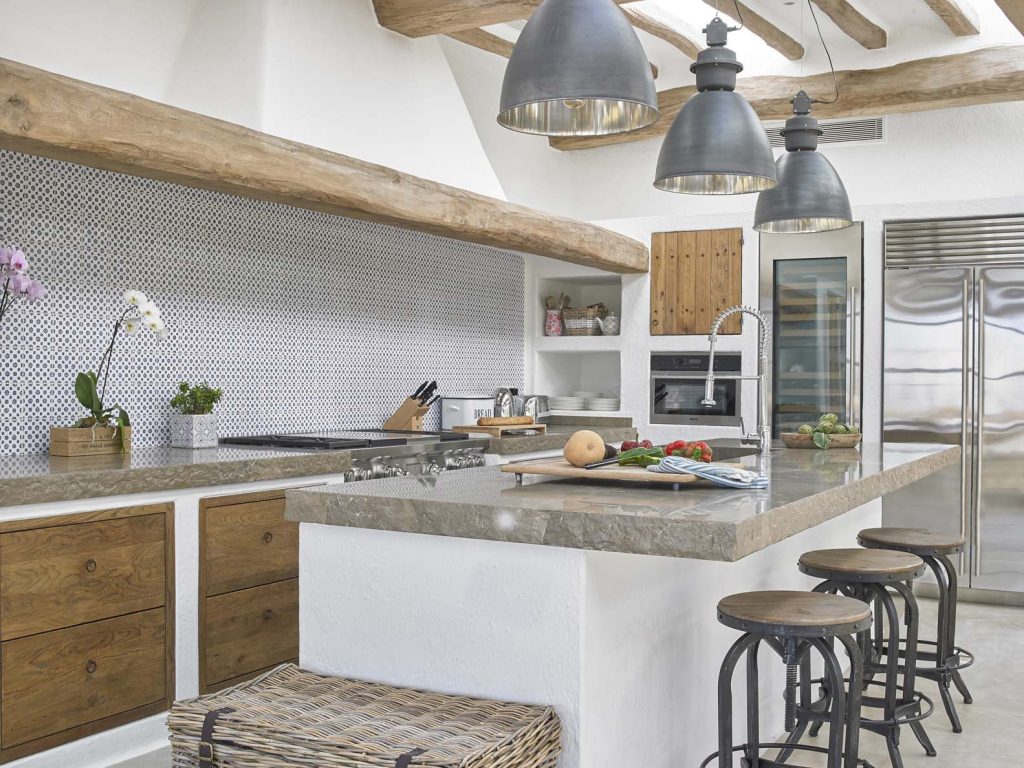 The garden and landscaping was designed to be water wise using native ora and vegetation. Even the lawn is a particularly strong grass that needs very little watering yet is still soft under foot. e couple put in grape vines in the ancient terraces and produced their rst 30 litres of wine this year. ey also pressed their own olive oil from the ancient trees on the property, just as the original inhabitants of the nca would have hundreds of years ago. Down on the lower terraces where the soil is more suitable are almond, apricot, g, apple, pomegranate and nispera trees – the fruit of which will be well utilised in the house's kitchen.
Can Pep dén Pere became the rst calling card for B&V, the resulting property development company between Blakstad and Vollkammer. A B&V home shape shifts according to the climate, at once cosy and warm in winter and open and airy in summer. "It's all about comfortable, luxury living," explains Ingo. The family's Ibiza home ows from indoors to out, opening up to the landscape, paying a deep respect to the power of Ibiza's natural world and emitting an elegant yet utilitarian ambience tting for family life in Ibiza.
The feeling the house induces is best summed up by French philosopher Gaston Bachelard in his book, the Poetics of Space. " e house shelters day-dreaming, the house protects the dreamer, the house allows one to dream in peace." Can Pep dén Pere, under the ethos of B&V and Cloudhaus, is de nitely a place where one can dream in peace.